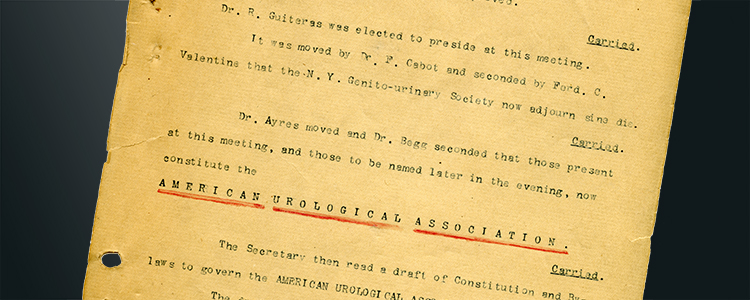 Founded in 1902 and headquartered near Baltimore, Maryland, the AUA is a leading advocate for the specialty of urology with more than 20,000 members worldwide. To learn more about the history of the AUA and its impact on the urologic community, take a look at the timeline below.
1900
A group of New York surgeons with special interest in the genitourinary system organized themselves as the New York Genito-Urinary Society.
1902
February 22, eight members of the New York Genito-Urinary Society meet for dinner in the home of Dr. Ramon Guiteras and vote to disband the society and officially form the American Urological Association.
Association Highlights:
Open to all surgeons, including obstetrician-gynecologist and genitourinary specialists.
Comprised of branch societies and five sections (North Atlantic, North Central, South Atlantic, South Central and Western).
AUA Founding Officers:

Ramon Guiteras, MD – President
William Otis, MD – Vice-President
Ferdinand C. Valentine, MD – Secretary
John Van der Poel, MD – Treasurer
A.B. Mabie, MD – Assistant Secretary
1903
AUA membership spans across the United States to include physicians from New York to the West Coast.
1917
Dr. Hugh Hampton Young introduces The Journal of Urology® to the urologic community.
1923
Clause in AUA Bylaws requiring new members to maintain membership within an AUA branch society eliminated.
1932
Clause eliminating requirement for AUA members to also be members of a branch society reinstated.
1935
AUA International Membership established.
1940
Eight AUA sections established (Mid-Atlantic, New England, New York, Northeastern, North Central, South Central, Southeastern and Western).
Highlights:
New boundary lines arranged so an equal number of members or fellows reside in each of eight sections thus making it possible for the Sections to be equally represented on the Executive Committee, the committee on Publications, as well as on the executive branches of the organization.

A minimum of 100 members required to be a chartered Section.
Sections are granted representation on the Executive Committee.

Branches are allowed to maintain their identities.
A minimum of 25 members required to form a branch.
Branches are not granted members on the Executive Committee.
1942
Mexico and New Mexico become members of the South Central Section.
1947
New Brunswick, Newfoundland, Nova Scotia, Prince Edward Island and Quebec become members of the Central Section. The Central Section was changed to the Northeastern Section as we know it today.
1948
AUA membership reaches 1,290.
1952
AUA membership reaches 1,365.
American Urologic Research Foundation created.
Mr. William P. Didusch, the Association's director of conventions and art editor for the Journal of Urology®, is hired as the first AUA executive secretary.
AUA officially settles in rented space at 1120 North Charles Street, Baltimore, MD from the Hugh Young estate and transfers all existing official records (except for financial records) from Dr. Shivers' office in Atlantic City, NJ to the new Baltimore office.
1954
First five research grants awarded by the AUA.
1958
The AUA is formally incorporated as a 501(c)(3) not-for-profit entity in the State of Missouri.
1960s
Each of the eight AUA Sections are incorporated as separate corporations in the State of Missouri.
1963
Peggy L. Dienst is hired as the assistant for Journal of Urology® operations.
1965
The AUA Executive Committee authorizes the hiring of personnel to support the AUAs growth in membership and workload. It also authorizes the leasing of additional space at the Baltimore, MD home office.
1966
AUA financial records transferred to Baltimore, MD.
1968
AUA full-time staff increases to six with the addition of Deborah F. Polly who was hired to assist with The Journal of Urology® editorial operations.
1972
The William P. Didusch Center for Urologic History officially opened with William P. Didusch as the first curator.
1976
The AUA Office of Education begins operation from Aspen, Colorado under the direction of Dr. Russell Scott, Jr.
1984
The AUA is reincorporated in the state of Maryland.
1980
The AUA Office of Education relocates to Houston, TX.
1987
The American Foundation for Urologic Disease (AFUD) is founded.
1988
G. James Gallagher brought in as AUA executive director.
1999
AUA membership reaches 13,000.
2000
AUA purchases 9.85 acres of land near the Baltimore/Washington International Airport, with the plan to build a new headquarters facility.
2001
AUA establishes a second incorporated Section 501(c)(6) entity to run parallel to the existing 501 (c)(3) organization. This entity houses the Health Policy, Practice Management and Membership functions while the C-3 remains focused on Education and Research.
2002
AUA celebrates its 100th anniversary.
2003
AUA membership reaches 14,000.
The AUA consolidates its Office of Education with the Baltimore office and moves into its new headquarters facility located in Linthicum, MD.
2005
AUA consolidates its newly named Foundation (the American Urological Association Foundation, Inc., formerly known as the American Foundation for Urologic Disease: AFUD).
2010
Research Scholars Program celebrates 35 years of funding young investigators.
2011
AUA membership reaches 18,095.
2012
AUA Board of Directors approves new Foundation name – Urology Care Foundation.
2015
AUA membership reaches 20,000.
2017
The Journal of Urology®, AUA's flagship journal, celebrated its 100th anniversary. (link to JU Centennial webpages)
Today
AUA employment has grown from 105 positions at the time of the move to new HQ in October 2003 to 165 staff members today.